Pamela Gordon
---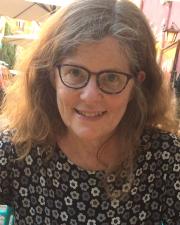 Biography
—
Pamela Gordon received the B.A. in Ancient Greek from Oberlin College and the M.A. and Ph.D. in Ancient Greek from Bryn Mawr College. She was the Chair of the Department of Classics from 1999 until 2014. She teaches Greek and Latin language and literature at all levels, as well as courses on Greek and Roman literature in translation. Her graduate courses include seminars on Euripides, Herodotus, and Sappho. Scholarly interests include Greek and Roman gender studies, Greek and Roman poetry, Greek tragedy, the cultural history of Epicureanism, and the Roman reception of Greek culture. Her first articles included: "Phaeacian Dido: Lost Pleasures of an Epicurean Intertext," Classical Antiquity 17 (1998); "The Lover's Voice in Heroides 15: Or, Why is Sappho a Man?" in Roman Sexualities, edited by Judy Hallett and Marilyn Skinner (Princeton University Press, 1998); "Some Unseen Monster: Rereading Lucretius on Sex," in The Roman Gaze, edited by David Fredrick (Johns Hopkins University Press, 2002). Her more recent work on gender and Epicureanism was supported by a grant from the American Council of Learned Societies.  
Research
—
Research interests:
Epicureanism
Diogenes of Oenoanda
Ancient Greek and Roman Gender Constructions
Sappho
Teaching
—
Teaching interests:
Greek Language and Literature, Epicureanism, Greek Drama, Roman Reception of Greek Culture, Sappho
Selected Publications
—
Gordon, Pamela. "Kitsch, Death, and the Epicurean," in Sergio Yona and Gregson Davis, eds., Epicurus in  Republican Rome: Philosophical Perspectives in the Ciceronian Age. Pages 129-146. Cambridge University Press, 2022. 
Gordon, Pamela. "Diogenes of Oenoanda." Oxford Handbook of Epicurus and Epicureanism, Oxford University Press, 2020, pp. 531–48.
Gordon, Pamela. "Science for Happiness: Epicureanism in Rome, Naples, and Beyond." Oxford Handbook of Science and Medicine in the Classical World, edited by Paul  T. Keyser and John Scarborough, Oxford University Press, 2018.
Gordon, Pamela. "Epicureanism Writ Large: Diogenes of Oenoanda." Oxford Handbook to the Second Sophistic, edited by William Johnson and Danny Richter, Oxford University Press, 2017.
Gordon, Pamela, and Lombardo Stanley. Heroides 15: Sappho to Phaon. 2016.
Gordon, Pamela. "Searching for Sappho." Sappho: Complete Poems, Translated by Stanley Lombardo, 2016.
Gordon, Pamela. "Epistolary Epicureans." Epistolary Narratives, edited by Owen Hodkinson and Patricia Rosenmeyer, Brill, 2013.
Gordon, Pamela. The Invention and Gendering of Epicurus. University of Michigan Press, 2012.
Awards & Honors
—
American Council of Learned Societies Research Fellowship
1995 - 1996
Ned N. Fleming Trust Award for Outstanding Teaching
University Distinguished Teaching Award, University of Kansas
1995